(Updated) 20+ Important Uses of Computer – CsTutorialpoint
Hello friends, today we are going to talk about the uses of computers. So without wasting time let's understand what are the uses of computers.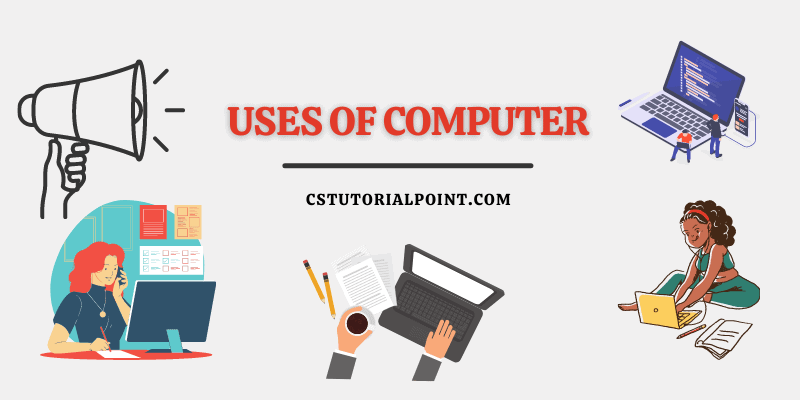 Uses of Computer
Today the use of computers is in every area of ​life, there are no such areas in which computers are not used. But these are some special areas where computer usage is very high.
Home
Banking
Insurance
Education
Marketing
Health
Business
Military
Communication
Government
Science and Engineering
Industry
Training
Medical field
Retail and Trade
Publishing
Arts and Entertainment
Banking and Finance
Transport
Navigation
1. Home
Computers are used in homes by different age of people to do different things, such as a child or school student using computers to play games, listen to songs, and for watch movies.
If someone from the house goes to the office, then they use the computer to run the internet, to do any work in their office, to pay the online bill, to run social media, etc.
If there is a computer science student, then he uses the computer to make his college assignments, to learn programming languages ​​and coding.
2. Banking
In today's time, almost the entire banking system depends on the computer. In the banking sector, computers are used to store the transaction details of their customers, such as accounts of withdrawing and depositing money through ATMs.
By using computers, banks have reduced many of the mistakes and wasteful expenses.
Banks provide us with the following facilities through the uses of computers -:
Banks provide us online accounting facility, which includes conducting current balance checks, making overdrafts and depositing money, charging interest, checking shares, and trustee records.
ATMs are fully automated. ATMs in banks have made it easier for banks and customers to deal with each other.
3. Insurance
With the help of computers, insurance companies keep all their records up-to-date. Finance houses, stockbroking firms, and insurance companies are widely using computers to address their concerns.
Insurance companies use computers to create database and maintain database of all customers. Insurance companies perform the following tasks through the uses of computers -:
Procedure for the continuation of policies.
Starting date of policies
The next installment of the policy.
Bonus Calculation.
Keeping a record of customers.
4. Education
In the field of education, computers are used for e-books, online classes, online exams, online tuition, etc.
The computer education system provides the following facilities -:
Computer education provides a medium to the system known as CBE (Computer Based Education).
Computer education is increasing the number of students very fast.
Online education has increased due to the use of computers so that any student can study from home.
There are many ways in which educational institutions use computers to educate students.
A computer is used to create a database & performance score of a student's so that they can get accurate information about it.
5. Marketing
The following are the uses of computers in marketing:
Advertising -: Advertising professionals use computers to print and broadcast advertisements, to create art and graphics, creating posts, and selling more products.
Home Shopping -: Home shopping has become possible with the use of computerized catalogs that provide easy access to product information to customers.
6. Health
Computers have become an important part of hospitals, dispensaries, and labs. where computers are used to keep records of patients and medicines.
Computer is also used as a scanner to detect many diseases so that the disease can be accurately detected and diagnosed quickly. ECG, EEG, Ultrasounds and CT scans, etc. are performed by computerized machines.
These are some of the special areas in Healthcare where computers are used a lot -:
Diagnostic – computers are used to identify the cause of the disease and collect its data.
Lab-diagnostic – Almost all tests are done by computer and its report is also prepared by computer.
Patient Monitoring – Computer is used to check the patient's unnatural signs like Cardiac Arrest, ECG, etc.
Pharma Information System – Nowadays computers are also used to detect side effects of medicines, check expiry dates, drug labels, etc.
Surgery – Computers are nowadays being used for performing surgeries. Which are proving very beneficial.
7. Business
Due to the speed, and accuracy of computers, computers are highly used by business organizations.
Computers are used in business organizations for the following tasks -:
In payroll calculation
within budget
In sales analysis
Financial forecasting
In managing employee databases
In Stock maintenance etc.
8. Military
In the military, computers are widely used for defense. Modern tanks, weapons, and missiles, etc. also use computerized control systems. The areas where computers are used in the military sector are -:
To control the missile.
In communication with the armies.
For Military operation and planning
To Make smart weapons .
9. Communication
Communication is a way to communicate your things to another person. Through communication, we send our message, picture, and speech.
These are some of the following main areas under communication through which we communicate –
By email.
Chatting
Via video conferencing
File transfer via FTP.
Telnet
10. In Government works
The government relies on computers for many of its tasks. The role of computers is important in government work. The following are the uses of computers in government work: –
In preparing the budget.
In the tax department to keep track of sales tax.
In the income tax department.
For Accurate weather information.
To keep a record of the deli's work in government offices.
Government machinery for good.
11. In Science and Engineering
High-performance computers are used to provide mobility to the work in computer science and engineering. Scientists have been using the computer for their various research work for a long time. Scientists are among the first such groups to first adopt computers as a tool.
Scientists use computers for better understanding of earthquakes and to analyze data.
Computers are used in science, research as well as in launching space devices, controlling them and collecting data and analyzing it, and saving that data.
Topologic images can be made very easily with the help of a computer.
12. Industry
Computers are used in various industry tasks such as inventory management, designing purposes, making virtual sample products, interior designing, video conferencing, etc.
Online marketing has become possible with the arrival of computers. Online marketing has seen a huge revolution in the ability to sell various products to inaccessible corners such as rural.
13. Training
Many organizations use computer-based training to train their employees, save money, and improve performance.
Through the computer, we can do video conferencing so that people in different places can join together. This saves our time as well as money.
14. Medical Field
In hospitals, computers are used for patient history, diagnosis, X-rays, live monitoring of patients, etc. Robotic surgical instruments are nowadays used to perform delicate operations such as surgeons.
Virtual reality technologies are also used for training purposes. It also helps to monitor the fetus inside the mother's womb.
15. Retail and Trade
Computers are used to buy and sell products online, it enables sellers to reach a wider market with lower overheads, and allows buyers to compare prices, read reviews, and choose delivery preferences to make capable.
Computers are also used for direct trading and advertising, using local listings sites like eBay, Amazon, Flipkart, or social media or independent websites.
16. Publishing
Computers are used to publish any type of design such as newsletters, marketing materials, fashion magazines, novels, or newspapers, etc.
Computers are used in the publication of both hard-copy and e-books.
Also used to track sales.
17. Arts and Entertainment
Computers are being used in every field of art as well as entertainment.
Computers are also used for drawing, graphic design, and painting, editing, copying, sending, and printing photographs.
It is used by the writer to write articles.
It is used to create, record, edit and listen to songs.
They are used to capture, edit and view videos.
They are used by people to play games.
18. Banking and Finance
Most of the work of banking in advanced countries is now happening online. All this has happened due to the arrival of the computer.
Nowadays, people are using computers to check their account balance, transfer money or pay by credit card.
Computer technology is being used to manage the stock market, trade stocks, and information.
Banks store detailed information of customer's account data as well as their behavior etc. in the computer which is used for marketing.
19. Transport
Computers are used to maintain safety and navigation systems for road vehicles, trains, aircraft, and boats. computers can also be used to uncover problems that require attention, such as low fuel levels, Oil change, or a failed mechanical part.
Computers can be used to customize settings for individuals, for example, seat setup, air conditioning temperature, and so on.
Navigation has become increasingly computerized, especially since computer technology has been combined with GPS technology. A computer combined with satellites means that it is now easier to pinpoint your exact location.
Read More -:
Conclusion
Friends, I hope after reading this post You must have known very well about What are the Uses of Computer.
I hope you have found the answer to your question and you will not have to search about the uses of Computer.
However, if you want any information related to this post or related to computer science, then comment below I will clear your all doubts.
If you want a complete tutorial on Computer Fundamentals, then see this article Computer Fundamentals Tutorial. Here you will get all the topics of Computer Fundamentals step by step.
Friends, if you liked this post, then definitely share this post with your friends so that they can get information about the uses of computers.
To get the Computer Science, Programming Language, Coding, C, C ++, related information, subscribe to our website newsletter. So that you will get information about our upcoming new posts soon.